AHUA Autumn Conference 2021 (Members only)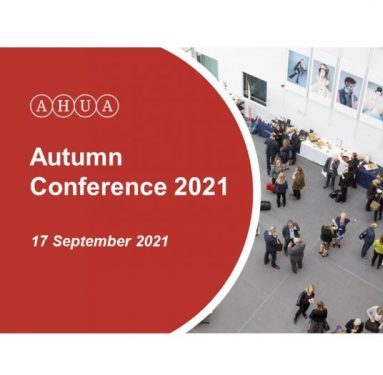 Conference Presentations are listed under related resources on this page.
Registration is now closed.  Please contact the AHUA office if you wish to attend.
View the programme here
(download the summary programme
here
)
View speakers here
View joining instructions here
(For booking queries, please contact Jo Elliott,
j.elliott@lboro.ac.uk
, 01509 633095).
Please note:
the conference will be socially distanced and a supportive approach taken to those who wish to wear masks.  As a courtesy to other delegates, we would appreciate it if delegates would take a lateral flow test before arrival.  Further information about the venue's Covid policy is available here.
there will be no refunds after 21 August.
Message from Conference Host, Richard Taylor, Chief Operating Officer, Loughborough University
Dear Colleagues I am delighted to invite you to register for the AHUA's Autumn conference 2021 taking place on Friday 17 September at Loughborough University's Conference Centre, with an informal networking dinner the evening before. At the Conference we'll  explore a range of themes in a variety of formats.  We start with a session which follows on from Sir Hilary Beckles' inspiring presentation at the Spring conference. David Duncan, COO at the University of Glasgow, will talk about the legacy of historical slavery in British universities and the excellent work Glasgow has done in starting to address this. Workshops then follow on freedom of speech, sexual violence, the stakeholder aspect of governance, employment on campus post C-19 and City Deals. Our afternoon plenaries start with a session examining trends amongst Generation Z. We will look at how Gen Z fared over the pandemic and what the future holds.  Finally, we end with a fantastic session with para-athletes who will just have returned from the Paralympic Games in Tokyo, hopefully medals in hand. As regular attenders will know, AHUA's conferences are an excellent opportunity not only to hear from and discuss issues with expert speakers, but also to meet up with old friends and make new contacts. Members attend from throughout the UK and from many different types of institution. The Conference will be held in our purpose built conference facility, Holywell Park, with 4* overnight accommodation at Burleigh Court.  Both centres are large enough to ensure adequate social distancing, should we still need it, and all staff have been trained in managing C-19 requirements. The early bird fee (before 20th August) is £195.00, which includes the plenary, lunch and refreshments.  Optional overnight accommodation on Thursday 16 September is available at £105.00 b&b; the informal dinner is £45 (dress code smart casual).  The booking website has further information about the programme, venue and travel options. I do hope you will join me and the team at the conference, and very much look forward to welcoming you to Loughborough in September. Best wishes Richard Taylor, Chief Operating Officer Loughborough University
Conference sponsored by: