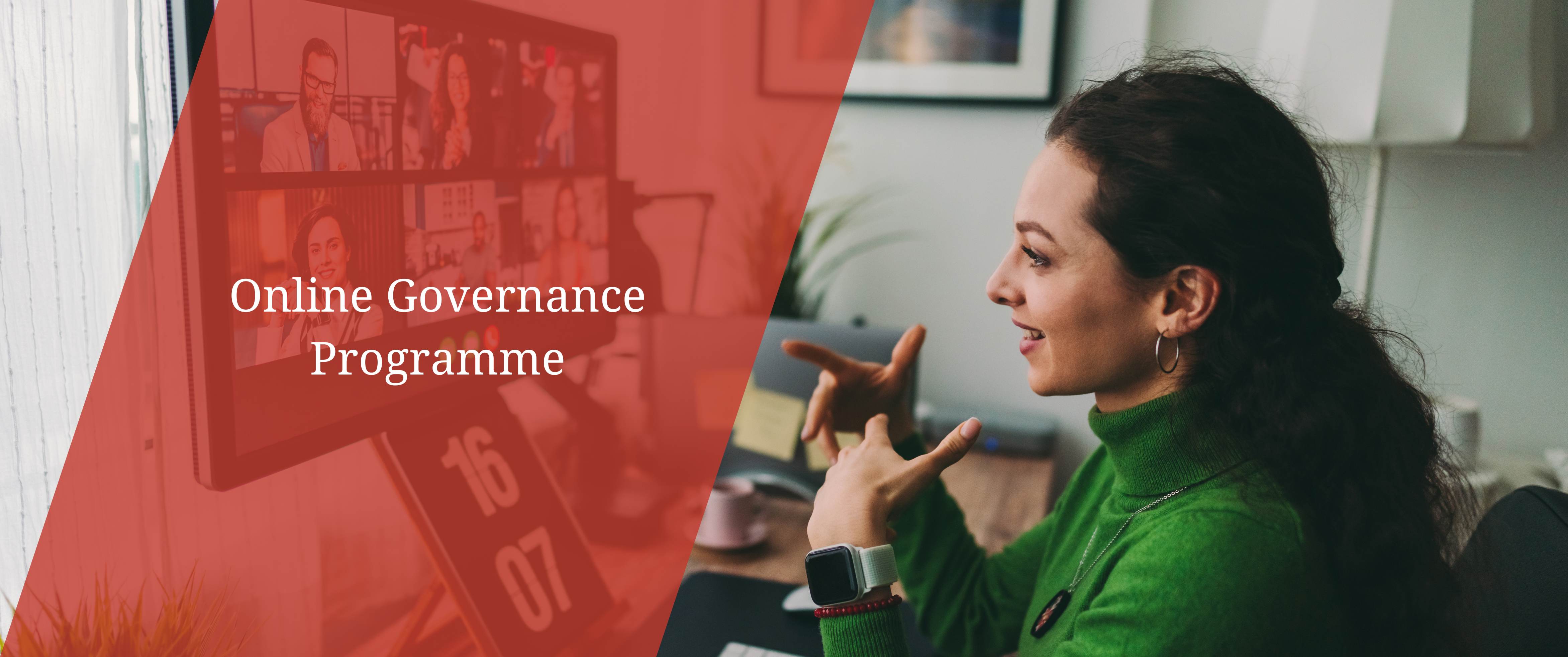 Applications for the 2023-24 Programme are now closed
If you are interested in a place on the 2024-25 Programme, please contact the AHUA Office.
The AHUA's Online Governance Programme has been devised as a Masterclass introduction to governance – starting with the fundamentals, and moving on to identify the key building blocks of a high-quality governance system.
The course is targeted at professionals occupying a governance role in their institution. It will also be of interest to other HE professionals who want, or need, to know more about governance including colleagues working in related areas such as Legal, Finance, Risk, Audit, Regulation, Compliance, HR, Corporate Affairs.
---
Introduction
Governance has been on a journey.
As recently as the last decade, it was considered a compliance obligation, 'something we had to do'. An area of technical specialism, which added cost rather than value. Little investment was made in the function. And the board secretary took the minutes.
Governance is now acknowledged as a business-critical discipline, underpinning the integrity of the organisation's operations, and helping it achieve its strategic objectives. High standards of governance provide evidence to stakeholders that the institution is well run – critical in terms of applications for government grant aid, and commercial sponsorship. The senior governance professional will be in the Leadership Team, and will be consulted on all matters of strategic significance.
Governance is a 'no going back' area of organisational knowledge. It constitutes a discipline 'without which we can't, and won't, move forward'. It is critical to an organisation's success.
---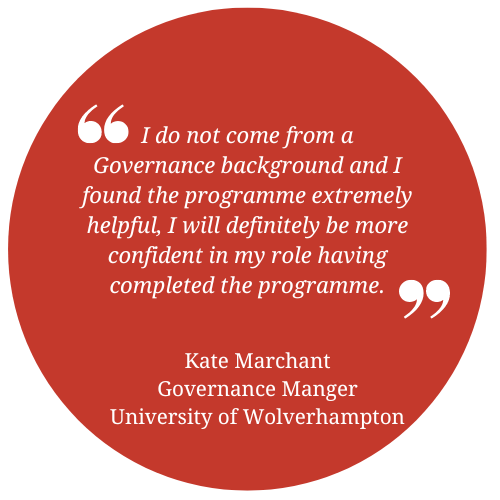 Programme overview
The aim of the programme is to offer delegates a Masterclass introduction to governance – starting with the fundamentals, and moving on to identify the key building blocks of a high-quality system of governance. The programme is focused on the HE sector, but will also reference good (as well as weak) practice in other sectors.
---
Who is this programme for?
The course is targeted at professionals already occupying some form of governance role in their institution (whatever their job title), and will allow participants to deepen (or refresh) their understanding of what is meant by an area of organisational activity which is increasingly prominent by the day.
The programme will also be of interest to any other HE professional who wants, or needs, to know more about governance. This will include colleagues working in related areas such as Legal, Finance, Risk, Audit, Regulation, Compliance, HR, Corporate Affairs – and anyone who has, or is likely to have, contact with the senior decision-making bodies in the institution, whether Council, Senate or Court. Or any of the institution's other decision-making entities, such as Committees, Trading Bodies and subsidiaries.
Enrol on the programme to improve your knowledge, develop your professional contribution, burnish your career credentials, and help your institution enhance its operational performance.
---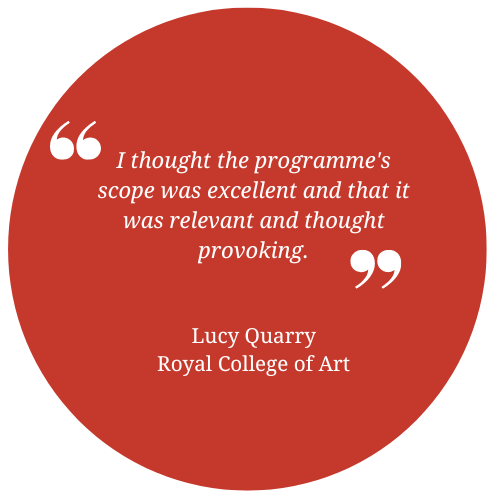 What the programme includes
The programme will take place over six months, starting in October 2023. It will comprise one 90 minute, online session (via Zoom) each month from 15.00 to 16.30.
This programme will be eligible for CPD points.
---
Programme content and dates for 2023-24 iteration
Session 1 – Tuesday 10th October 2023, 15.00 – 16.30
The purpose of an organisation and the purpose of a board; a short history of the evolution of governance, including academic governance, and why governance matters. Governance has been on a journey – initially considered a compliance obligation, and now acknowledged as a business-critical discipline, we will look at what has changed over the years, and why organisations see good governance as central to their success.

Session 2 – Wednesday 8th November 2023, 15.00 – 16.30
Directors' duties and liabilities, and the responsibilities which need to be understood when taking up a board role, or advising those already in a board role; the roles of those on the board – Chair, the VC, and other board members, including the Secretary. Boards work best when everyone understands their respective roles and, in particular, what it takes to be an effective board member. This also means being knowledgeable about the duties and responsibilities which come with each individual role.
Session 3 – Wednesday 13th December 2023, 15.00 – 16.30
Board leadership, ​Board composition and succession planning; achieving difference (diversity) in the boardroom and its effect on decision-making. Boards are there to lead their organisations into a successful and sustainable future. This takes careful planning to get the right people into the boardroom, so that individual attributes can be combined to create a powerful team. Of key importance is ensuring that different perspectives are brought to bear to deepen the conversation, and strengthen decision outcomes.


Session 4 – Wednesday 10th January 2024, 15.00 – 16.30
Formulating and delivering strategy, and holding management to account; achieving effective oversight of the entity's risk management processes and ensuring the integrity of the controls regime. This session will examine the important relationship between board members and executive directors, in the areas where value is created, protected and preserved. Everything inside the boardroom is a team game, and achieving the right balance between oversight, and operations, is an area where boards can struggle.
Session 5 – Wednesday 14th February 2024, 15.00 – 16.30
Purpose, vision, mission, values, culture and behaviours ; delivering accountability to stakeholders, and protecting the organisation's brand and reputation. If governance is about anything, it is to help an organisation secure the optimal positioning with its stakeholders. This can only be achieved if the organisation affords as much attention to the 'soft stuff' to help it connect to, and build meaningful relationships with, its critical partners. An organisation which exhibits leadership in these areas will see its brand and reputational credentials enhanced.

Session 6 – Wednesday 13th March 2024, 15.00 – 16.30
Board organisation – meetings, agendas, committees; addressing board dilemmas. How the board organises itself – governance hygiene – is not an optional extra, or a 'nice to have'. It represents the foundation stone of good governance, constitutes an essential underpin for effective decision-making, and is one of the areas where an organisation can secure easy wins.
The content will be supplemented by the use of case studies and guest speakers​.
---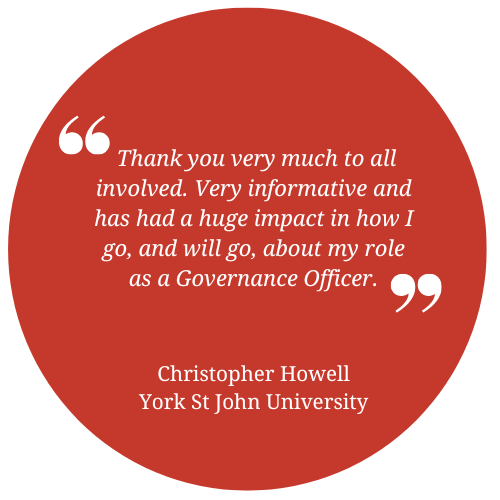 Fee
AHUA member institutions: £600 (VAT exempt)
Non-member institutions: £900 (VAT exempt)
---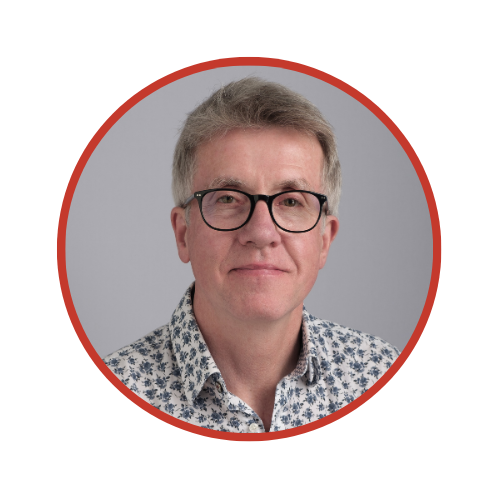 Programme Director – Seamus Gillen
Seamus has not only worked extensively with the board secretary community in the UK and overseas, but he has also been one of the governance professionals principally responsible for developing the secretary cadre. He was previously the Policy Director of the Chartered Governance Institute (CGI) (formerly the Institute of Chartered Secretaries and Administrators – ICSA), where he was instrumental in promoting the importance of the role of company secretary, overseeing a number of research projects which examined how the company secretary could develop the wider behavioural skills needed to succeed.
After he left the Institute, he took this work to the next level, and created the Leadership Development Programme for Company Secretaries and Governance Professionals, a scheme – involving coaching and mentoring – to develop the capabilities of company secretaries and other governance professionals.
Internationally, he created the training programme for developing the secretary cadre in Bahrain, working in association with the Bahrain Institute of Banking and Finance, and as adviser to the Central bank of Bahrain. He has trained the secretary cadre in the UAE, Mauritius and South Africa, and this wider international experience has informed the work carried out in the UK, and vice versa.
Seamus' experience in training board directors more widely is significant. It is this experience which helped him realise that the strategic secretary fits wholly into the director category, and requires training at this level. While it is the chair, and the board as a whole, which owns the governance of the organisation, someone needs to own the discipline at executive (strategic) level. That is the person who has the overall responsibility for the wider governance picture and whom Seamus has identified as the strategic governance adviser.
---
How to apply
Online Governance Programme online application form
AHUA office.