Where is BPP University?
BPP University has 13 centres in eight locations across England. We also have students studying online around the world.
When did BPP University become a university?
In September 2007, BPP University made history by becoming the first publicly-owned company in the UK to obtain degree-awarding powers.
Fast forward to 2020 and BPP was granted indefinite Taught Degree Awarding Powers (TDAP) by the Office for Students (OfS).
Indefinite TDAP status acknowledges the University's academic standing as a confident, mature higher education institution, with rigorous standards and academic governance.
How many students does BPP University have?
BPP University has around 15,000 students. Almost 90% are postgraduate and 70% are full-time.
Here is a snap-shot of key metrics at BPP University: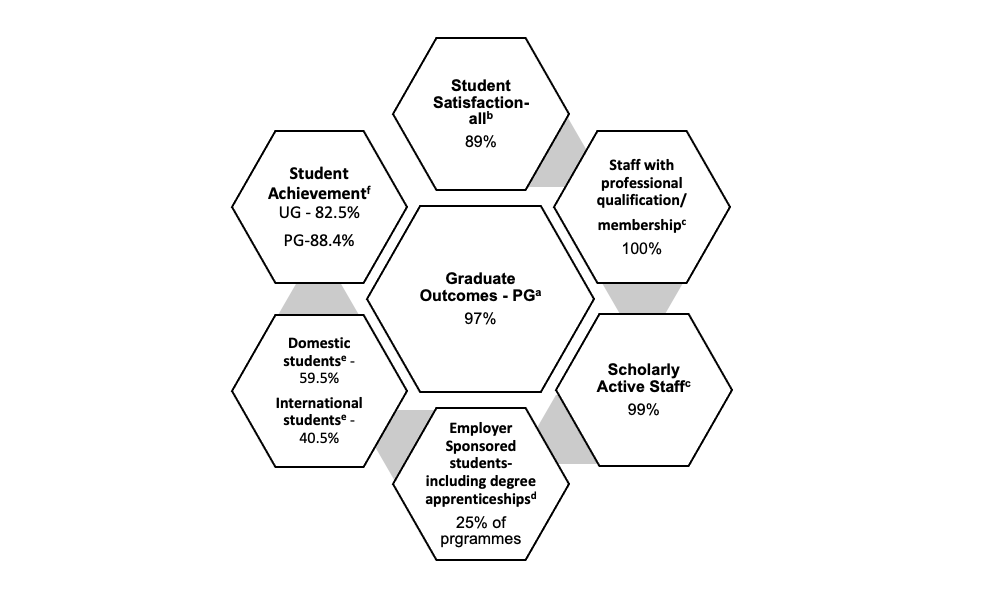 a. Graduate Outcomes Survey 2018/19, results in 2020-21
b. Daily Tutor Scores Satisfaction rate 2020-21
c. Scholarship Census Survey 2019-20
d. Number of degree apprenticeships or employer sponsored
e. HESA 2019-20 and Aggregate Offshore Record (for students based overseas)
f. HESA 2019-20
Is BPP University known for particular areas of study?
BPP University is historically known for accountancy and law.
Founded in 1976, our creators set out to transform how accountants studied for their qualifications. They set up a distance learning business with materials being posted to students, facilitated by the invention of photocopying.
They established an ethos that still runs through BPP today – constantly striving to challenge convention in the education space and to embrace change.
Our Law School now has over 25 years of experience in delivering professional legal qualifications. It is trusted by many of the most influential law firms in the country, with 60 leading law firms educating their trainees exclusively with us.
What other areas of study do you offer at BPP University?
We also specialise in business, technology, and nursing.
BPP University Business School provides higher education for aspiring accountants, bankers, and managers. Our programmes are tailored for the needs of today's business climate, taught by industry experts who deliver programmes at a range of levels. The School works with a wide range of professional bodies including ACCA, ICAEW, and CMI to ensure that all our programmes are directly linked to desirable professional qualifications.
BPP University School of Technology was established as a dedicated School in 2020 to support our clients with their digital transformation. We bring together our expertise in technology, analytics, and financial modelling to provide high quality training programmes. We offer data and technology qualifications at every level, ranging from one-day short courses to levy-fundable apprenticeships and degree apprenticeships, through to Master's level qualifications.
BPP University School of Nursing works in collaboration with key partners in the NHS and private healthcare sectors. We produce healthcare professionals who meet the needs and emotional demands of key patient groups in fields such as mental health, learning disability, and children and young people. Brilliant staff are the lifeblood of the healthcare profession and we help to create them.
What makes you particularly proud of BPP University?
I am particularly proud of two aspects of our university.
Firstly, our faculty all have impressive professional credentials and standing. We require that they bring the workplace into the classroom, as well as having relevant academic qualifications.
All of them have worked in, or carried out research in, the professions that our alumni are hoping to join and excel in. I am often in awe of the creative ways that they teach the application of theory through real life examples that they have lived.
Secondly, we live our values. One of these is 'stronger together'. The significance of this has been sharpened during COVID. I love that we are a very supportive, caring community that pulls together, especially when faced with adversity.
One example is that we were able to quickly move assessments online. This enabled thousands of students to sit hundreds of exams under supervision, enabling them to continue and complete their degrees and apprenticeships.
Which challenges is BPP University currently facing?
I try to keep everything in context, but I worry about the pace of change that the pandemic has facilitated. I wonder whether the sector has the right skill sets and Ed Tech to deliver the highest quality teaching to students.
I also worry about whether students are ready for a more blended approach to learning, teaching, and assessment, and whether they have the right foundation skills for this.
What is your university motto?
Stronger together – we are building careers through education.
Sally-Ann Burnett is the Deputy Vice-Chancellor at BPP University.